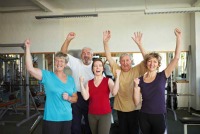 Retirement living can either be something that people look forward to or something that they can dread. It may all depend on how one prepares for it. And one of the many concerns that retirees may have to face is how they may want to spend living out their retirement. Among the more traditional ways available like living in retirement homes and such, there are also newer options available that retirees may want to consider. Here are some of them.
Senior Co-Housing
Since retirement doesn't necessarily mean living alone or as a couple, retirees would still want to belong in a community. That is why the emergence of continuing care retirement communities or CCRC's is increasingly getting more and more popular. A community where senior retirees can live with other likeminded retirees can help make life more fun and enjoyable. And there have been other unique developments that grew out of such growing senior housing communities. One of them is the senior co-housing set up.
Although it may not be an entirely new idea that a number of senior retirees opt to live together in a single home, there has been a new twist on how this senior co-housing works. There are now CCRC's composed of a cluster of single detached homes that are situated near a central home or building. In this set up, retirees still live in their own separate housing units but also are obligated to pay monthly dues to maintain the central building or home that all members of the retirement community shares. The dues can also be used for common activities such as monthly dinners, amenities and services that include nursing care or home caregivers.
CCRC's Without Walls
Aside from living in a retirement community, another newer option retirees can consider, especially those who do not have the luxury to stay in a retirement community, is the "CCRC's Without Walls" program. This relatively new program provides continuing retirement care even for those retirees who do not belong to any of the retirement communities. What this program does is bring the amenities and services usually provided in retirement communities straight onto the homes of other retirees. But this program does not usually come cheap as retirees may need to pay more in terms of dues.
University-Based Retirement Communities
While most retirement communities usually sprout out in areas where there are golf courses and other recreational facilities available for seniors, a growing number of such communities have sprouted out where there are universities. It seems that there are retirees who also years for continuing education even in their twilight years. There are now some retirement communities that form close ties with universities. So far it has been becoming quite popular. The proximity of the university may allow seniors access to some university classes and other similar events. University students, on the other hand, approach the community for certain requirements such as internships.
No Responses to "Three New Options For Retirement Living"