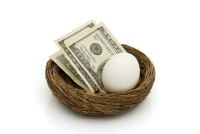 Preparing for retirement has become an even bigger issue today for most upcoming retirees than it has ever been. The recent economic woes have seriously affected most of the retirement nest eggs of people about to enter into the world of retirement. Some have been affected so severely that they have decided to postpone their planned retirement to make up for the loss their retirement funds may have incurred.
Maximizing your retirement fund can be done in so many ways. It has never been reiterated too much by many experts that the only means to ensure a comfortable retirement is by preparing early. The next best thing is by trying to maximize how you build your retirement savings with the time you have left. Here are some of the tips that might help you maximize building your own retirement nest egg.
Make retirement saving a habit.
Some people make the mistake of under-allocating when it comes to saving for their retirement. It may not seem as important for most people, especially during their younger years. They do not try to give more attention to building their retirement nest egg more than they need to. It pays to make trying to save up for retirement a habit.
Learn about the various options for retirement savings.
Not only should you try to make saving up for retirement a habit, you should also try to learn about the various options that you may have as you try to build your nest egg. As you grow older, there might be many options to help you improve or maximize building your nest egg that you might be eligible for. Some of these options may be available out there. But most people may fail to take advantage of them simply because they are not aware that they exist in the first place. Try to learn about these options by doing your own homework or trying to ask around from those who are in the know.
Do ask for help if you need it.
Some people put off trying to build their retirement nest egg early simply because they don't know when to start. Some people may think that they do not have the right skills to start investing effectively for gains. If such is the problem, try to ask for help. You might want to get the services of a financial adviser to help you out. It not, you might want to seek the advice from more financially savvy friends and colleagues that you trust. Any help you can get to build your retirement nest egg may help you maximize your savings for your future retirement.
No Responses to "Maximizing Your Retirement Fund"